Pathway to Servant Leadership at St. Paul
Thank you for your interest in serving in leadership at St. Paul.
There are THREE WAYS to serve in leadership at St. Paul:
1) Servant Leader Mentee
2) Servant Leader (Ministry Chair or Co-Chair)
3) Servant Leader Coach
A Servant Leader Mentee is the starting point for leadership. A Mentee is someone who is interested in becoming a Servant Leader after receiving additional training. A Servant Leader is someone who serves as a Ministry Chair or Co-Chair. A Servant Leader Coach is someone who has prior leadership experience and is willing to coach a Servant Leader. All Servant Leader candidates are subject to the discretion of the Senior Pastor.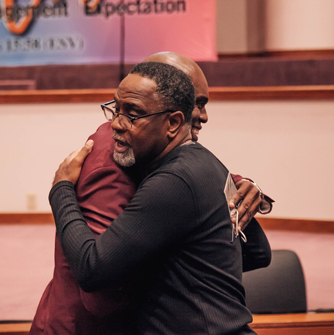 If you sense God is calling you to serve in leadership at St. Paul follow these steps, in this order:
STEP 1:
Review the Servant Leader Descriptions. This document describes the duties, expectations, and responsibilities of Servant Leaders (aka: Ministry Chairs and Co-Chairs).
STEP 2:
Review the Ministry Descriptions. This is a list of St. Paul's current ministries.
STEP 3:
Complete the online Spiritual Gifts Survey & L-E-A-D Personality Survey. This step is not required for Servant Leaders Coach/Mentor.
This link is for St. Paul members. You will need to register to create an account (if not already done) in order to take the surveys. If you have previously taken the Spiritual Gifts Survey through this website, it is not necessary to take it again.
Survey Results are sent directly to St. Paul and emailed to you. Your scores are also saved for future reference. As you complete one survey, you can then take the next one. Allow about 15 minutes for each.
STEP 4:
Complete the online Interest Form. Interest Forms are due March 1, 2023.
This form can be used to express your interest in serving in leadership for up to two ministries and/or two leadership roles. If you need assistance in completing this form, contact Leadership Development Team Rhonda Valdry or Colette Mathews at leadership@stpaulsac.org. For technical difficulties, contact the Karie Robinson IT/Communications Support at karie.robinson@stpaulsac.org
Links and Resources
"When you come, bring ….. my scrolls, especially the parchments." 2 Timothy 4:13
Leadership includes acquiring new leadership knowledge and skills. Leaders need to continually assess and keep current with the leadership knowledge and skills required for effective ministry. This involves reinforcing and refining present and valid leadership knowledge and skills. Effective ministry leaders will discard anything that is unbiblical or culturally irrelevant for ministry in the 21st century.
Christian Leadership Books
Below is a list of books for your reading consideration:
The Emotionally Healthy Leader, by Peter Scazzero
The Painful Side Of Leadership, by Jeff Irog
Strengthening the Soul of Your Leadership, by Ruth Bailey Barton
Experiencing Leadership | Shift Letting Go of Leadership Heresies, by Don Cousins
Building Leaders, by Aubrey Malphus and Will Manchini
Next Generation Leadership by Andy Stanley
A Leaders Legacy by Kouzes & Posner
Aqua Church by Leonard Sweet
Spiritual Leadership, by J. Oswald Sanders
The Making of a Leader, by Dr. J. Robert Clinton
5 Leadership Essentials for Women, by Linda Clark
Leadership that Works, by Leith Anderson
Amplified Leadership, by Dan Reiland
Developing the Leader Within You, by John C. Maxwell
The Five Levels of Leadership, by John C. Maxwell
Communicating for a Change, by Andy Stanley
On Becoming a Leader, by Warren Bennis
Overcoming the Dark Side of Leadership, by Gary McIntosh & Samuel Roma, Sr.
The Five Dysfunctions of a Team, by Patrick Lencioni
Leading and Loving It, by Lori Wilhiute & Brandi Wilson
Be a Motivational Leader, by Leroy Eims
Be the Leader You Were Meant to Be, by Leroy Eims
Lead Like Jesus, by Ken Blanchard
Leading on Empty, by Wayne Cordeiro
Leading with the Heart, by Coach Mike Krzyzewski
Doing Church as a Team, by Wayne Cordeiro
Leading the Team-Based Church, by George Cladis
The 21 Irrefutable Laws of Leadership, by John C. Maxwell
Courageous Leadership, by Bill Hybels
Master Leaders, by George Barna
Excellence in Leadership, by John White
Principle Centered Leadership, by Stephen Covey
Leadership is an Art, by Max DePree
Websites
Below is a partial list of helpful Christian websites for your viewing consideration:
Barna Research – a leading research organization focused on the intersection of faith and culture.
Building Church Leaders
http://www.christianitytoday.org/ourbrands/buildingchurchleaders.html
Train Church Leaders
http://trainchurchleaders.com/
Women's Ministry Resources
http://www.lifeway.com/n/Ministries/Women/
Men's Ministry Resources
http://www.lifeway.com/n/Ministries/Men
Men's Ministry – Man in the Mirror
http://www.maninthemirror.org/a-look-in-the-mirror/17-how-to-build-a-strong-mens-ministry
Youth Ministry Resources
All Ministries http://www.lifeway.com/
http://ministryresourcesonline.com/
Small Group Ministry Resources